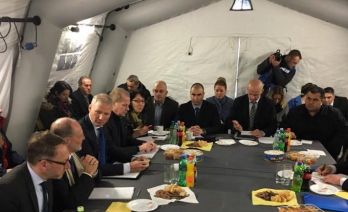 The 47th meeting of the Incident Prevention and Response Mechanism (IPRM) was held in Gali on 28 June 2017.
Participants discussed all the incidents that happened from previous meeting, freedom of movement and illegal detentions. The closure of two controlled crossing points in March of this year, and its impact for local residents, was also discussed.
The representatives of the Central Government of Georgia have demanded the release of illegally detained father and son Archil and Paata Rogavas. The investigation into the murder case of Mr. Otkhozoria in May 2016 was discussed at length.
The next meeting of the Gali IPRM is scheduled for 26 July, 2017.
The Central Government of Georgia is presented on The Incident Prevention and Response Mechanism with the representatives of the State Minister of Georgia for Reconciliation and Civic Equality and the State security service of Georgia.