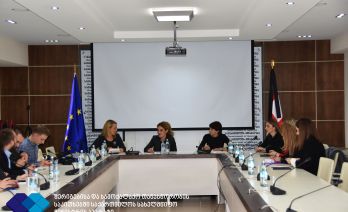 The State Minister of Georgia for Reconciliation and Civic Equality Ketevan Tsikhelashvili met with Lithuanian journalists and provided them with the information about the breakaway regions of Georgia.
During the meeting the State minister talked about the situation on the occupied territories of Georgia, in the villages alongside the dividing line, restrictions for the population, their problems and challenges.
Ketevan Tsikhelashvili informed journalists about the condition of IDPs. The State Minister also reviewed the peaceful and reconciliation policy of the country, humanitarian solutions, the importance of confidence building and the contacts between the communities.
The second part of the meeting was held in question-answer mode. Ketevan Tsikhelashvili answered the guests' questions.