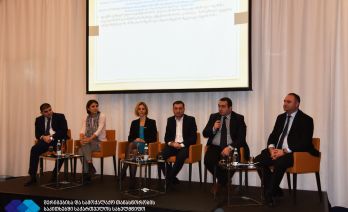 The First Deputy State Minister for Reconciliation and Civic Equality Mr. Lasha Darsalia delivered a speech at the conference held on the mandate of the interdepartmental commission, working on the issues of gender equality, women and domestic violence.
The theme of the conference were the commitments undertaken by the Georgian National Action Plan within the framework of the UN Security Council Resolutions "Women, Peace and Security", - achievements, challenges and goals.
The participants of the conference discussed the activities undertaken within the framework of the 2016 – 2017 National Action Plan, the results of monitoring and new aspects of the 2018 – 2020 National Action Plan.
"These issues are important not only in terms of gender equality but generally for the development of our country, for its democracy. When it comes to state security, the human security component is crucial. And the most important component is gender equality issues and women's rights. I am really glad that Georgia is one of the first in the region that started thinking and developing in this direction.
"This issue is one of the priorities of the Office of the State Minister for Reconciliation and Civic Equality. We constantly think about the raising of women's role in conflict resolution issues.
"The situation in terms of women's rights in the occupied territories is also one of our priorities. We think it will remain as one of the main directions in the future", - said Darsalia.