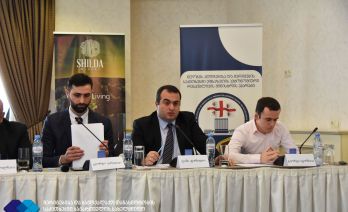 The Office of the Minister of the Autonomous Republic of Abkhazia organized the Conference on confidence building and reconciliation issues. The aim of the meeting was to increase the role of youth in the political and cultural life and engage in the peace process.
During the conference participants discussed two main topics - the role of public diplomacy in conflict resolution and tourism, youth and Georgian products in peace building process.
"Any project, which aim is the confidence building, is very important. Our State, as well as our ministry, pay great attention to the measures taken in this regard. This conference is one of such activities. We support any activity where confidence building is the main issue.
"I want to point out that it is especially important when it is done by youth organizations and youth. This is a generation that has to overcome the tragedy that Georgians, Ossetians and Abkhazians had endure. They should be able to do what previous generations did not. So the role of youth is very important. The resolution of these problems is in their hands", - said Lasha Darsalia.
The representatives of governmental and non-governmental organizations and up to 30 young people participated in the conference.