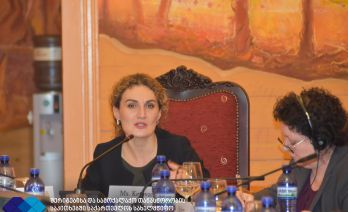 The State minister of Georgia for Reconciliation and Civic equality Ketevan Tsikhelashvili delivered a speech at the joint conference of the Georgian Government and the Eastern Partnership Civil Society Forum Georgian National Platform "Georgia-EU Association Associations".
The topic of the plenary session was conflict's peaceful resolution. Participants discussed Government's strategy towards occupied territories: "Engagement trough the cooperation", state program of referral services for people living in the occupied regions and their access to education.
The State Minister provided participants with the information about human rights issues and conditions in which people live on the occupied territories and along the dividing lines. She also talked about the challenges faced by these people- restriction of the right of free movement, education and access the property.
Tsikhelashvili underlined the role of civil society in peace building process and added that their role in the process of the reconciliation is very important.
"The policy of our Government is directed towards reconciliation. Our aim is to reconcile and to return the societies of both sides of the dividing line to each other. There are some opportunities and we try to work in the frames of this possibilities", - she said.