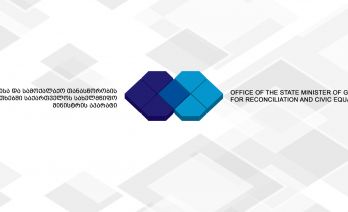 On December 25 Giorgi Lukava was released from Sokhumi's Drandi prison after almost seven years of imprisonment. He has been already handed over to the Georgian side on the Enguri Bridge. Lukava was detained in the village of Zemo Barghali in Gali district in May 2011 and was sentenced to 20 years in prison.
The State Minister of Georgia for Reconciliation and Civic Equality Ketevan Tsikhelashvili assessed the release of Giorgi Lukava from a long-term detention as a positive example of cooperation on humanitarian issues between the Georgian and Abkhaz sides.
"This is the continuation and another good precedent of positive cooperation in frame of which we already release our citizens from the Sukhumi and Tskhinvali prisons.
"I am glad that after almost seven years of imprisonment Giorgi Lukava is free and he will meet this New Year with family, wife and children.
Thanks to all those who was involved in this process and contribute to the solution of this high humanitarian issue. This will undoubtedly be reflected in the peace process and confidence building in Georgian-Abkhazian relations", - said Ketevan Tsikhelashvili.
On November 26, another Georgian, Giorgi Giunashvili, a resident of the village of Disevi was released from Tskhinvali prison after 18 months of imprisonment. He was sentenced to 20 years of prison.