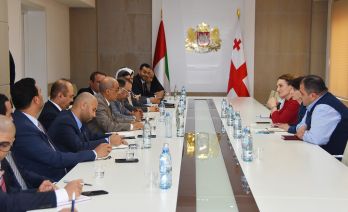 The State Minister of Georgia for Reconciliation and Civic Equality Ketevan Tsikhelashvili met with the delegation of the United National Defense College of United Arab Emirates in which the representatives of various departments of the State were present.
The delegation is visiting Georgia with the several-days-visit and will meet during this period with the Heads of various state institutions.
At the meeting the State Minister informed the guests about the activities of the Office and its competence, reviewed the situation in the occupied regions.
They also discussed the state policy of reconciliation and engagement, the steps taken within it. The new peace initiative of the Government of Georgia "A Step for a Better Future" also was discussed. The State Minister emphasized the importance of implementing the package of initiatives.
The members of the delegation had questions about Georgia's peace perspective and ways to deal with existing challenges, and received comprehensive answers from the State Minister.
The process of ethnic minorities rights protection in Georgia and civil integration were also discussed at the meeting.
At the end of the meeting the sides wished each other success in the future activities.