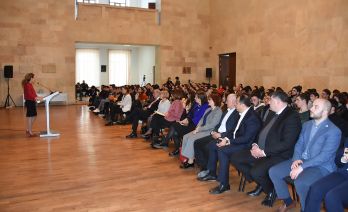 The State Minister for Reconciliation and Civic Equality Ketevan Tsikhelashvili held a presentation of the program for the youth living in the occupied regions of Georgia within the framework of the new peace initiative "A Step to a Better Future".
The program offers higher education for young people living in the occupied territories. Applicants will be trained in Tbilisi and Zugdidi.
The presentation that was held at the Tbilisi State University, was attended by students from Abkhazia and Tskhinvali region, which are studying in various universities.
According to the State Minister, this meeting was special for her and she was preparing for it for a long time.
"These children are studying in a very difficult situation. They are really heroes. At the same time they show a very good results. We want them to be more successful in the future and we would like to contribute to this.
"Today I talked to them about a new peace initiative, which is underway now and the legislative, infrastructure, financial and communication part will be completed by the end of the year. Today I came here with a special novelty, which is very important for pupils and for students - free training center for young people living in the occupied territories will be created. As you know, they are getting school education in very difficult conditions. In Gali and Akhalgori this process is hindered because it is not possible to get education in native language.
"That's why the State will offer them completely free and without exam preparatory center. In this center they will be able to prepare for a variety of desirable subjects and then enter university in the simplified manner. This program works not only for ethnic Georgians but also for Ossetians and Abkhazians, because courses are going on in different languages", - said Ketevan Tsikhelashvili.
The pilot version of the program will be launched from February 2019 and the full course will come into force from September of the same year. In addition to being fully funded, the living conditions for young people will be also provided.
The presentation was also attended by the Rector of the Tbilisi State University Giorgi Sharvashidze, Deputy Minister of Education, Science, Culture and Sport Natia Zedgenidze - Jishkariani, Head of the Tskhinvali Region Temporary Administration Dimitri Sanakoev, etc.