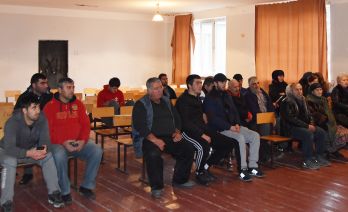 An informational meeting was held in the village of Akhalsopeli (Kvareli municipality) for raising awareness on domestic violence issues and existing state services.
The aim of the meeting was to establish the zero tolerance in the society towards violence and domestic violence against women and inform population about causes and consequences of violence, provide information about existing legislation and services.
During the meeting, the country's domestic violence statistics were discussed and noted that violence is not a problem only of the regions densely populated by ethnic minorities or individual municipalities.
The meeting was attended by local population. During the discussion at the end of the meeting the representative of the Office of the State Minister and Legal Aid Service answered on the questions of the participants.
The campaign is being held in the regions populated by ethnic minorities - Kvemo Kartli, Samtskhe-Javakheti and Kakheti. Its presentation was held in July, in Tsalka. Information meetings are held within the framework of the 2018-2020 Action Plan for Women to Fight Violence, Domestic Violence and Victims (Victims).