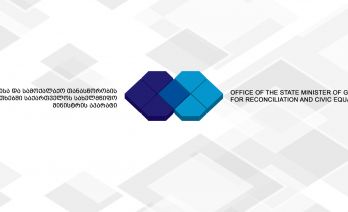 The 46th round of Geneva International Discussions was held. The main topic of the discussion was the necessity to solve humanitarian problems of conflict affected population. Special emphasis was on Archil Tatunashvili, Giga Otkhozoria and Davit Basharuli's murder cases. Georgia's representatives still have the need to enforce justice on these cases.
The delegation spoke about the heavy results of the illegal occupation of Abkhazia and Tskhinvali regions by the Russian Federation and the consequences of the actual annexation of the local population. The Georgian participants condemned the illegal process of artificial barriers to the village of Atotsi.
The Georgian side has raised the problem of human rights violations on the occupied territories. Expressed concern about the facts of illegal detentions and kidnappings and emphasized the inadmissibility of all this. The serious situation in the humanitarian point of view was mentioned. The restriction of free movement, the prohibition of education in native language, the issue of property and other fundamental rights violations also were discussed.
The subject of special consideration was the severe consequences of ethnic discrimination of the Georgian population of Gali and Akhalgori and the necessity of immediate solving of this challenge. In this context the responsibility of the Russian Federation was emphasized.
During the discussions the necessity of timely restoration of Gali and Ergneti Incidents Prevention and Response Mechanisms meetings was underlined.
One of the central issues in the humanitarian working group was the safe and dignified return of internally displaced persons. However, as soon as the issue began, members of Russian delegation and the participants from Sokhumi and Tskhinvali left the meeting.
The next round of Geneva talks will be held on April 2-3, 2019.