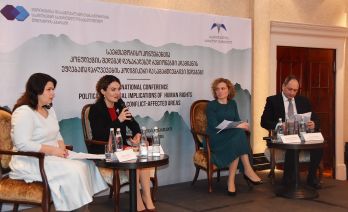 The State Minister for Reconciliation and Civic Equality Ketevan Tsikhelashvili and the Public Defender of Georgia Nino Lomjaria host the international conference "Political and Legal Implications of Human Rights Violations in Conflict-affected Areas".
In order to participate in this event, the Minister of Temporarily Occupied Territories and Internally Displaced Persons of Ukraine Vadym Chernysh and Deputy Prime – Minister of Moldova for Reintegration Christina Lesnik visited Georgia. The national and international mechanisms of human rights and ways of peaceful resolution of the conflict are the main topics of discussions.
The aim of the conference is to analyze the situation after 10 years from 2008 Russian-Georgian war, to discuss political and legal consequences of human rights violations in conflict-affected regions and to hear the standpoint of other Eastern European states - Ukraine and the Republic of Moldova.
The State Minister said that this conference is extremely important and it has both symbolic and practical purpose.
"We want once again to draw the attention of the international community and local actors to the important challenge that brings occupation. This is a security challenge for Europe and at the same time it is a daily challenge for thousands of people. These are IDPs who are unable to return to their homes, people living in villages that are fractured by barbed wire and inside of these barbed wire fences, in a more difficult situation. Their rights are daily infringed. Starting from illegal detentions and finished with such great tragedies, as the murder of Giga Otkhozoria, Davit Basharuli and Archil Tatunashvili. These toughest facts remind us that while we have an unresolved conflict there is no guarantee of human rights. For last 10 years we do not have in Abkhazia and Tskhinvali region any international security or human rights protection mechanism, because they do not have access to these territories. And of course the situation in human rights is very fragile.
"Today we want to discuss with my Ukrainian and Moldovan colleagues this challenge in a wider, regional context because, unfortunately, they have the same problem - the current occupation caused by unsolved conflict. Accordingly, people are in a very hard humanitarian situation beyond these artificial barricades", - said Ketevan Tsikhelashvili.
Representatives of diplomatic corps accredited in Georgia, international organizations, civil society, Government of Georgia also took part in the conference.