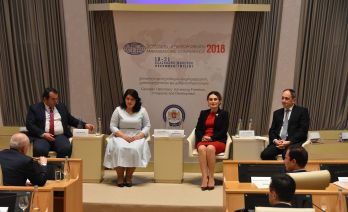 The State Minister of Georgia for Reconciliation and Civic Equality Ketevan Tsikhelashvili delivered an annual report during the "Ambassadors Conference 2018 - Georgian Diplomacy for Freedom, Welfare and Development".
Minister of Temporarily Occupied Territories and Internally Displaced Persons of Ukraine Vadym Chernysh and Deputy Prime – Minister of Moldova for Reintegration Christina Lesnik participated in the conference as an honorary guests.
The State Minister focused on the situation in the villages along the dividing line. She noted that the local population has to deal with a lot of problems every day. She also reviewed the difficult situation in the sphere of human rights, which is caused by the continuous occupation.
"Today we discussed the problem of unresolved conflict, continuous occupation and peace policy in the regional context. We, as well as our partners abroad, understand that Georgia's challenge is not just a challenge of one country. Nor Ukraine and Moldova challenges are local. All these challenges are linked with one main factors and its name is Russia's separation policy.
"Today we discussed with our ambassadors the experience that our friendly neighbors have in the framework of peace policy and in dealing with this major challenge.
We also discussed what steps can be taken in the future in order to draw international community's more attention to our problem. All three countries have clear support from the partners, but the current task is to strengthen our voice by promoting collaboration and common problems, as this is not the only territorial conflict in the sense of military and security. This is a daily challenge for thousands of people. Today in Georgia there are walls that once have collapsed in Berlin. We have unresolved conflict for 25 years and for 10 years we have open occupation. This is unacceptable", - said Ketevan Tsikhelashvili.
The conference covered a wide range of issues of global and regional challenges of international policy, European and Euro-Atlantic integration, conflicts peaceful resolution, security etc.