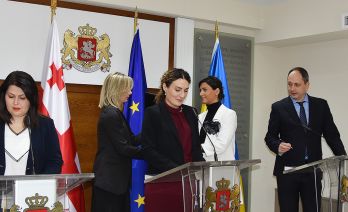 The State Minister for Reconciliation and Civic Equality Ketevan Tsikhelashvili, Minister of Temporarily Occupied Territories and Internally Displaced Persons of Ukraine Vadym Chernysh and Deputy Prime – Minister of Moldova for Reintegration Christina Lesnik signed a Memorandum on mutual understanding and cooperation.
Within the framework of this Memorandum the Parties are willing to strengthen and further develop cooperation in terms of conflict resolution and sharing experience in the field of peace building. Its purpose is to create a tripartite inter-agency platform, to start strategic regional cooperation and to define roads for bilateral support.
According to the State Minister, all three countries still have similar problems - unresolved conflicts and occupied territories. Consequently, the unification of efforts in the peaceful settlement of the conflict will make the work more effective. First of all it is linked with the improvement of human rights and humanitarian conditions.
"Yesterday, during the conference, we discussed the existing situation and the ways of dealing with challenges. It is also important to talk about the methods of struggle against propaganda and exchange of information. I promised my colleagues that I would provide more information about Georgia's engagement and reconciliation policy, including a new peace initiative, which will be fully functional from the beginning of next year.
"It is very important that we have the support of our partners. It is also important that the countries with the same problems, have our support, that we exchange more information, share experiences and help our policy be more effective. We are working for peace, for the welfare of people - for the people who are affected by unsolved conflicts. We work hard to unite our countries peacefully and reconcile with our peoples", - said Ketevan Tsikhelashvili.
Before the signing of the memorandum, a trilateral meeting was held where the Ministers of these three countries reviewed the situation in the occupied territories. The importance of the relations and support of the countries with the common problem was emphasized. The sides expressed full readiness for cooperation.