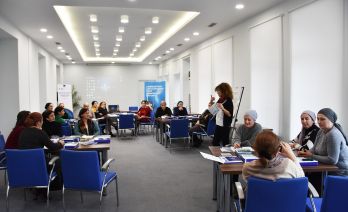 Interesting, necessary and informative. In such way teachers and school principals from Pankisi evaluate two-day seminar on European and Euro-Atlantic integration of Georgia that finished today.
Within the framework of the project, which is a joint initiative of the Office of the State Minister for Reconciliation and Civic Equality and the Information Center on NATO and the European Union, twenty teachers from each village in Pankisi Gorge got acquainted with the history of NATO and the EU, Georgia's European and Euro-Atlantic integration process, Association Agreement and DCFTA issues, etc.
The seminar was closed by the Deputy State Minister for Reconciliation and Civic Equality, Lia Gigauri, who thanked the teachers for their interest and commitment.
Anjela Gorgishvili is a teacher of Dumasturi public school. She says that for herself as an English language teacher, this seminar has great necessity as before she had not got enough information about Europe and European structures. And now, she says, it is already possible for her to share received knowledge in school.
"It should be noted that there is a lack of information in villages. People have not enough access to the internet. Consequently, they often fall under the influence of myths and propaganda. Because of the lack of information, they often think that integration into Europe is a negative process. The school is the first source of knowledge and information for children. Therefore, this seminar was not only interesting and desirable but also necessary", - says Mrs. Angela.
The history teacher of the Duisi public school Lamara Maghroshvili says that the seminar will help to raise the awareness of the society and understand what will be the result of Georgia's Euro-Atlantic integration.
"We have learned a lot of new things during this seminar that allow us to inform our pupils and their parents about these issues. We should help people to understand that we will have a better life, better reality, future, because Europe is the highest values, democracy, freedom, protection of territories, peace, respect for human rights, etc. I would like to thank each organizer, we are returning back with great impressions", - said Lamara Magroshvili.
At the second stage of the program, teachers will leave for Brussels on a study trip. The financial supporter of the project is the EU Delegation to Georgia. Besides, the project is supported by the Ministry of Education, Science, Culture and Sport.