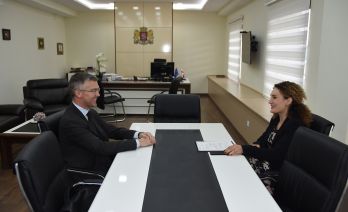 The State Minister of Georgia for Reconciliation and Civic Equality Ketevan Tsikhelashvili met with Swedish Ambassador to Georgia and Armenia Ulrich Tidéström.
During the meeting the State Minister reviewed the Georgian government's new peace initiative "A Step to a Better Future". She also talked about its implementation process. Tsikhelashvili provided guest an information about planned and implemented within this initiative events.
At the end of the meeting, the State Minister underlines the importance of continuing and enhancing bilateral cooperation. The future plans were set.