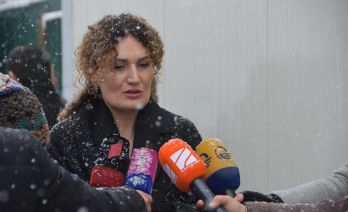 The State Minister for Reconciliation and Civic Equality Ketevan Tsikhelashvili, along with the Prime Minister of Georgia Mamuka Bakhtadze visited the apple chips factory in the village of Ditsi, along the division line.
Apple chips factory is one of the winners and successful innovative business project of "Start-up Georgia". The startup was founded in 2016 by three students of Faculty of Food Technology of the Georgian Agrarian University and the enterprise was opened in the village of Ditsi, Gori district. The project implies the production of apple chips with an innovative drying technology that is a healthy and tasty alternative to standard chips.
As the Prime Minister said, such projects are the prerequisite for the economic development of the country. He added that the export of produced products will soon be implemented in China.
"I've always said that entrepreneurial spirit in our youth is a very important precondition for us in order to overcome the economic challenges that our country faces. Once again I would like to thank young people for this initiative and wish them more success", - said Mamuka Bakhtadze.
The State Minister Ketevan Tsikhelashvili spoke about the importance of such a successful enterprise near the division line and noted that this is the way how Georgia can defeat the main challenge – occupation of the country.
"For me and I think for everyone it is very important that such a successful enterprise works in the village of Ditsi, close to the dividing line, and that this is the initiative of local youth. These people are an example of how to overcome a major challenge related to barbed wires, isolation and attempts to take away the prospect of future and development. This will not happen.
"People live in this village, study and produce such an innovative product. Business is expanding and I wish these young people and anybody who would like to initiate such initiatives to succeed. We are facing development to the barbed wire fences and this factory is a good example", - said Ketevan Tsikhelashvili.
Total investment volume of the project is 100 000 GEL, from which "Start-up Georgia"-s financing is 90 000 GEL. At this stage 11 people are employed in the factory, mostly local residents.
Ketevan Tsikhelashvili, together with Mamuka Bakhtadze, also visited Ditsi police checkpoint, thanked police for their work and congratulated with Christmas and New Year.