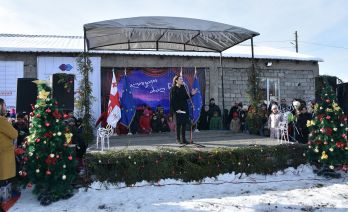 The State Minister of Georgia for Reconciliation and Civic Equality Ketevan Tsikhelashvili presented the final report of 2018 in the village of Ergneti, along the dividing line.
According to the state minister, presenting the report from this village, just a few meters away from the fences, is symbolic.
"I came here in order to tell this brave people, who are the amazing example of strength, about our annual activities, about what we do, what we have done and what we are going to do in the future. The New Year is related to hopes and new plans about how to overcome a major challenge in this village - such as development, peace, flexibility and create a better future.
"I want to congratulate on the New Year every citizen of Georgia, especially refugees, people that live along the occupation lines and population of the occupied territories of Georgia. First of all I would like to with them peace, for which we will try our best. I want to wish you development and the strength of each family. I hope that with our common efforts and with the help of the new peace initiative, "A Step to a Better Future", we can be able to destroy these barbed wire fences, improve the situation, restore the confidence bridges. Without this, our future cannot be imagined", - said Ketevan Tsikhelashvili.
The State Minister opened the Christmas Market in Ergneti. Also a concert and various entertainment events were held, which were attended by people from Ergneti and neighboring villages.
Shida Kartli Governor-Giorgi Khojevanishvili, Gori Mayor Konstantine Tavzarashvili and the Chairman of the Gori City Council also attended the event.