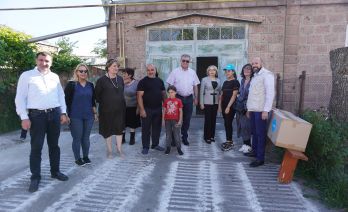 Acting State Minister Lia Gigauri met with representatives of local non-governmental organizations and the civil sector in Akhalkalaki municipality.
The directions of the new document of the State Strategy for Civic Equality and Integration were discussed at the meeting. Acting Minister of State listened to the views of the locals and expressed the desire to further deepen cooperation in order to involve them in the process of developing the 5-year plan.
After the meeting, Lia Gigauri together with the Mayor of Akhalkalaki Yuri Unaniani and the Head of UNICEF in Georgia Ghasan Khalil visited the socially vulnerable large families of Akhalkalaki Municipality and handed them baskets of food and hygiene items.
The items of primary need will also be given to socially vulnerable large families living in Ninotsminda municipality. The project is funded by the United Nations Children's Fund (UNICEF).