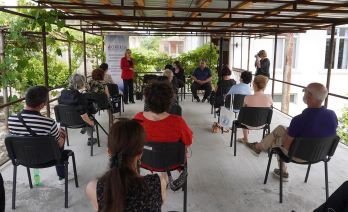 Acting State Minister Lia Gigauri and the Adviser to the Prime Minister on Human Rights issues Lela Akiashvili held a meeting with local NGOs at the Zugdidi Center for Democratic Involvement.
Among other topics, the protection of human rights during the pandemic caused by COVID-19, including the needs of the population living along the dividing line and the new national human rights strategy were discussed.
Representatives of the civil sector also focused on the priorities that they believe should be reflected in the new human rights strategy.
Nino Vibliani, Deputy Governor of Zugdidi, representatives of the Government of Abkhazia and the Public Defender's Office also attended the meeting. It was noted that during the period of COVID-19 pandemic, the administration of the state trustee did not leave any citizen's application or request without response.