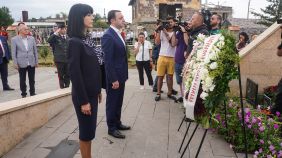 The State Minister for Reconciliation and Civic Equality Tea Akhvlediani and the Minister of Defence Irakli Gharibashvili paid their respects to the heroically fallen soldiers near the village Shindisi during 2008 Russia-Georgian War. They decorated the memorial with a wreath once again recounted heroic stories of the fallen soldiers of Shindisi battle.
The State Minister expressed her condolences to the families of the fallen soldiers and thanked them for raising the heroes. According to Tea Akhvlediani, the battle of Shindisi is an impressive story of self-sacrifice and heroism in modern history.
"I honor the memory of our heroes. It was in these areas, in an unequal battle with the Russian army, that they recklessly sacrificed themselves to defend the dignity of the homeland. This is an example of heroism on which the next generation, our children, must be brought up.
It was a remarkable example of devotion that will always remain an incurable pain for us. But at the same time, the spirit and self-sacrifice of our warriors, our heroes, has given us a commitment to protect and maintain peace. Let's take more care of the development and strengthening of our country. Also, the reconciliation of war-torn societies through peace and the unification of the country within the framework of peace policy", - said the State Minister.
Also today, the clergy held a vigil for the souls of those who died heroically. Later, the Ministers inspected the area around the old railway station together with the local resident Badri Khutsishvili. They thanked him for rescuing the soldiers wounded during the battle of Shindisi, for sheltering the family of the soldiers and for selfless care.