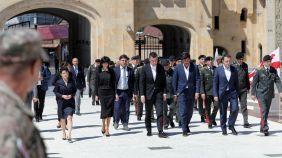 Civil funeral of 13 people killed during the armed conflict in Abkhazia held at the Holy Trinity Cathedral in Tbilisi. The identification of 13 individuals became possible through the joint efforts of the Office of the State Minister for Reconciliation and Civic Equality and the International Committee of the Red Cross, within the framework of a bilateral Georgian-Abkhazian coordination mechanism. The State Minister Tea Akhvlediani attended the funeral.
"Considering the wishes of the families of the victims of the Abkhaz war, the burial of the deceased who are currently placed at Trinity Cathedral will take place at various locations, including at the ancestral cemeteries. Two of them will be buried by the same principle today at the Dighomi Brothers Cemetery with honorary military honors.
I would like to emphasize once again that there is no alternative to peace. Such a tragedy should not be repeated in Georgia. The Georgian government is doing its best to maintain peace and alleviate the plight of the war-torn society in Georgia and the dire consequences of the tragic conflict", - said the State Minister.