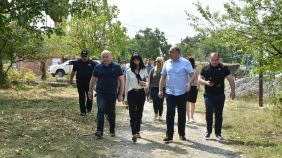 The State Minister of Georgia for Reconciliation and Civic Equality, Tea Akhvlediani, visited the villages of Gugutiantkari, Khurvaleti and Odzisi near the occupation line. The State Minister got acquainted with the situation on the ground in the villages near the dividing line, met with the locals and heard about their needs. After meeting with Data Vanishvili, who lives behind barbed wire in Khurvaleti, Tea Akhvlediani visited the families of Zaza Gakheladze and Khvicha Mghebrishvili, who were detained by the occupation regime. The families were informed about the intensive work of government agencies for the unconditional and immediate release of illegally detained citizens.
"I got acquainted with the difficult situation on the occupation line in the villages of Gugutiantkari, Khurvaleti and Odzisi, where I also met with the local population. We also visited the families of our illegally abducted citizens Zaza Gakheladze and Khvicha Mghebrishvili, to whom we personally introduced the ongoing efforts of the Georgian authorities for their unconditional release.
Today, from Odzisi, I would like to respond to the dire situation in the occupied Tskhinvali region in terms of humanitarian and human rights violations. It has been one year since the so-called Akhalgori checkpoint was closed, which puts our population in unbearable conditions, which is aggravated by the current pandemic. I once again call on the international community and our partners to use all the opportunities in order to end this regime and give our citizens to improve their socio-economic conditions", - said Tea Akhvlediani.
The State Minister also visited the House-Museum of Giorgi and Davit Eristavi in the village of Odzisi, which is historically connected to the existing museum of Ksani Eristavi in the occupied territory of Akhalgori. Tea Akhvlediani got acquainted with the project of rehabilitation and conceptual development of the Museum of the National Agency for Cultural Heritage Preservation.