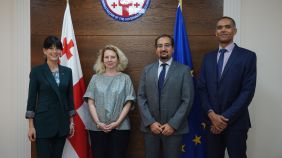 The State Minister for Reconciliation and Civic Equality, Tea Akhvlediani, met with Daniel Khoshabo, Deputy Director for Political Affairs of the Council of Europe, Maxim Longang, Advisor to the Council of Europe's Political Affairs Department, and Natalia Vutova, Head of the Council of Europe Office in Georgia.
The purpose of the meeting was to obtain information on the situation in the occupied territories of Georgia for the 22nd Consolidated Report of the Secretary General of the Council of Europe.
The State Minister in detail talked about the situation in the occupied regions of Georgia, the security, humanitarian and human rights challenges.
The State Minister expressed concern over the ongoing illegal process of erecting barbed wire and other artificial barriers along the occupation line, including in Didi Khurvaleti, Atotsi and Zemo Nikozi, which has a deplorable impact on the humanitarian situation. The State Minister also drew the Ambassador's attention to the facts of illegal detention of Georgian citizens and stressed the need for continued efforts by international partners to ensure the immediate release of those currently detained illegally.
The conversation also touched upon Georgia's peace policy and the implementation of the "Step to a Better Future" peace initiative and the steps taken in this direction.
At the end of the meeting, the State Minister thanked the representatives of the Council of Europe for their efforts and stressed the importance of the Secretary General's consolidated reports.
---