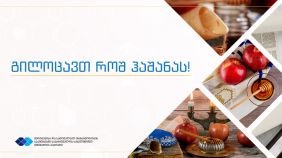 State Minister for Reconciliation and Civic Equality Tea Akhvlediani congratulates Jews living in Georgia on Rosh Hashanah.
"I would like to congratulations you on this important holiday – New Year's Eve. I want to wish each of you peace, success and prosperity. Our country is historically distinguished by ethnic and cultural diversity, and a special place in this diversity have the Jews living in Georgia for centuries with their distinctive culture and traditions. This friendship is very valuable for everyone. Culture and religion of Jewish citizens are an integral part of our country", - said Tea Akhvlediani.
Rosh Hashanah, the Jewish New Year, is one of Judaism's holiest days. Meaning "head of the year" or "first of the year," the festival begins on the first day of Tishrei, the seventh month of the Hebrew calendar, which falls during September or October. Rosh Hashanah commemorates the creation of the world and marks the beginning of the Days of Awe, a 10-day period of introspection and repentance that culminates in the Yom Kippur holiday, also known as the Day of Atonement. Rosh Hashanah and Yom Kippur are the two "High Holy Days" in the Jewish religion.