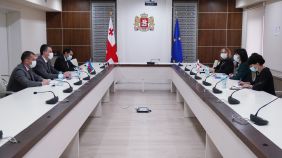 The State Minister for Reconciliation and Civil Equality Tea Akhvlediani has held the first working meeting with Azerbaijan's Ambassador to Georgia Faig Guliyev. The meeting was held at the initiative of the newly appointed ambassador.
During the meeting Faig Guliyev presented proposals for effective future cooperation with the State Minister's Office as part of his activities in the country. Tea Akhvlediani informed the ambassador of activities by the Office, including the progress achieved in civil equality and integration, state policy objectives, and main tasks.
They also focused on the significance of strategic partnerships between two countries and ensuring peace and stability in the region. At the end of the meeting, the parties affirmed their readiness for future cooperation.