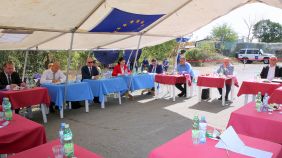 The 99th Incident Prevention and Response Mechanism (IPRM) was held today in Ergneti, co-facilitated by Ambassador Marek Szczygieł, Head of the EU Monitoring Mission in Georgia (EUMM) and Ambassador Annika Söder, Special Representative of the OSCE Chairperson-in-Office for the South Caucasus. In view of the COVID-19 pandemic, the Ergneti IPRM was accompanied by all necessary precautionary health measures.
The two co-facilitators took note of recent changes concerning freedom of movement and related pandemic measures, and called on participants to implement further solutions to improve the socio-economic situation stemming from the negative impact of the COVID-19 pandemic and the ongoing closure of the crossing points along the Administrative Boundary Line (ABL).
Discussions in the IPRM furthermore focused on issues pertaining to stabilization and normalization, including borderisation processes, detention cases and the wider effects of the COVID-19 pandemic.
All participants agreed that the upcoming agricultural season necessitated an increased dialogue through the IPRM format and the EUMM-managed Hotline.
"The Tskhinvali representative repeated exactly the same thing as at the previous meeting, that it was easier for people with health problems to move to a controlled area. According to them, it is no longer necessary to apply to the so-called Ministry of Health and go to Tskhinvali, they can solve the problem in Akhalgori and move to the Georgian Government's controlled territory.
They also talked about the epidemiological situation in the occupied territories and said that the situation there is stable, there are almost no seriously ill people, and in the near future they will start vaccination with Russian vaccine "Sputnik V".
Of course, special attention was paid to the illegal detentions, the issue of Zaza Gakheladze and also the so-called borderization process that has been going on for years", - said Zviad Zviadadze, head of the Department of the Autonomous Republic of Abkhazia and the former South Ossetian Autonomous District.