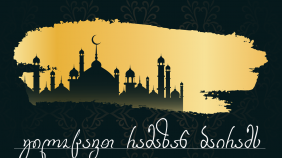 The State Minister of Georgia for Reconciliation and Civic Equality Tea Akhvlediani congratulates the Muslims living in Georgia on the holiday of Ramadan Bayram.
"I want to congratulate you on the holiday of Ramadan, the end of the holy month. I wish you health, success, and prosperity.
Georgia, throughout history, had ethnic, religious, and cultural diversity. For centuries, representatives of different ethnic groups and denominations have coexisted in Georgia in a friendly manner, respecting each other's beliefs and making a significant contribution to the development and strengthening of the country. Today, these unique traditions are preserved and consolidated within the framework of state policy. The Georgian government will spare no effort to strengthen the principles of civic equality and the tradition of mutual respect in our multi-ethnic and multi-confessional society", - said the State Minister.
Eid al-Fitr, also called the "Festival of Breaking the Fast", is a religious holiday celebrated by Muslims worldwide that marks the end of Ramadan, the Islamic holy month of fasting. The holiday celebrates the conclusion of the 29 or 30 days of dawn-to-sunset fasting during the entire month of Ramadan.