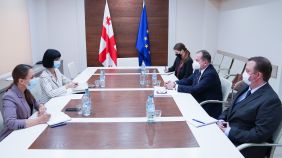 The State Minister of Georgia for Reconciliation and Civic Equality, Tea Akhvlediani, met with the Head of the European Union Monitoring Mission (EUMM) in Georgia, Ambassador Marek Szczygiel.
The State Minister reiterated the importance of the EUMM as the only international observer mission operating on the territory of Georgia. Tea Akhvlediani thanked the foreign diplomat for his contribution to maintaining security and stability on the ground, as well as to restoring confidence.
The humanitarian and human rights situation in the occupied regions of Georgia, which was aggravated by the pandemic, was discussed in detail at the meeting. Special attention was paid to the Akhalgori direction. The severe consequences caused by the long-term closure of the so-called "crossing point", the facts of illegal detentions, the erection of barbed wire and other artificial barriers, as well as the ban on receiving education in the native Georgian language in the Gali district.
The sides stressed the importance of the Geneva International Discussions and the smooth functioning of the Ergneti IPRM, as well as the restoration of the Gali meetings.
The Head of the EU Monitoring Mission positively assessed the efforts of the Georgian side in the process of peaceful settlement of the conflict and promised full support to the State Minister in this regard.
The parties agreed on closer cooperation.