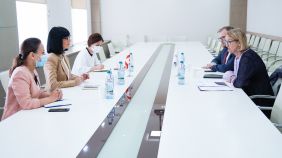 The State Minister for Reconciliation and Civil Equality met with Kari Henriksen, the Special Representative of the OSCE Parliamentary Assembly on the South Caucasus.
Tea Akhvlediani stressed the importance of the strong support of the Assembly for the peaceful settlement of the conflict in Georgia, and highlighted the relevant resolutions approved in support of Georgia.
The difficult humanitarian and legal situation in the Russian-occupied regions of Georgia and the discrimination of the local population, especially ethnic Georgians living in the Gali and Akhalgori districts, and other gross violations of fundamental rights were discussed. Cases of illegal detention of Georgian citizens near the administrative boundary lines were also mentioned during the meeting. The minister highlighted the need for continued efforts by international partners, including the OSCE, for an immediate release of all illegally arrested citizens.
Akhvlediani briefed Erisken on the results achieved in the implementation of the State Policy on Reconciliation, and visions aimed at improving the socio-economic conditions of the conflict-affected population in the occupied Tskhinvali and Abkhazia regions.
The Special Representative of the OSCE Parliamentary Assembly praised the efforts of the Georgian side and promised further support to the Office of the State Minister.
The parties agreed to continue close cooperation.