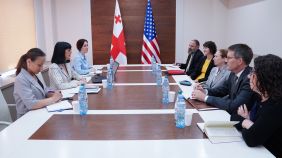 The State Minister for Reconciliation and Civic Equality Tea Akhvlediani held a meeting with Kelly Degnan, the United States Ambassador to Georgia.
The Minister of State informed the US Ambassador about the progress in the strategic review of the state policy of reconciliation and engagement. The parties discussed the priority directions of the mentioned process and future visions, which was the main goal of the meeting. Tea Akhvlediani and Kelly Degnan agreed to continue close cooperation within the framework of the strategic review, as well as on other topical issues within the agency's competence.
"We continue to consult with our strategic partners on the issues of updating the state policy of reconciliation and engagement in relation to the occupied territories, which is part of the wider policy of peaceful resolution of the conflict in Georgia.
To the Ambassador of the US to Georgia, Mrs. Kelly Degnan, with whom we have close cooperation and partnership in both directions within the competence of the State Minister's office, we introduced the process of strategic revision of the reconciliation policy, the visions, approaches, priorities developed within it, which will be based on the existing reality and the needs of people affected by the conflict", - said Tea Akhvlediani.