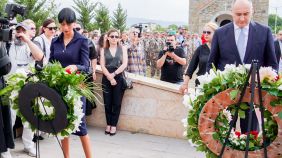 State Minister for Reconciliation and Civic Equality, together with Minister of Defense Juansher Burchuladze, paid tribute to the memory of the Georgian soldiers who died in Shindisi during the 2008 Russia-Georgia war.
Tea Akhvlediani expressed her condolences to the families of the fallen soldiers and thanked them for raising the heroes. According to the State Minister, the battle of Shindisi is an impressive story of self-sacrifice and heroism in modern history.
"The Shindisi Battle is one of the most remarkable episodes of heroism in the history of Georgia, but also one of the most tragic days with the loss of 17 young men in an unequal encounter with the Russian troops. The dedication and the heroism place a huge responsibility [on the Government] to do its utmost to maintain peace and ensure peaceful development of the country.
I would like to once again offer my condolences to the family members of the heroes of Georgia gathered here today, and wish them strength and endurance in dealing with their incurable pain", - said Tea Akhvlediani.