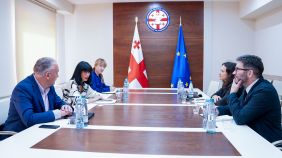 The State Minister for Reconciliation and Civic Equality Tea Akhvlediani held an introductory meeting with the newly appointed special representative of the International Committee of the Red Cross (ICRC) on missing persons, Anies Kotu. Acting Special Representative Daniel Maxwin was also present at the meeting.
The State Minister emphasized the importance of the activities of the International Committee of the Red Cross in Georgia and thanked the representatives of the ICRC for their cooperation and the humanitarian efforts made by the organization in Georgia.
The State Minister drew attention to the process of searching for persons missing as a result of the conflict of the 1990s and the Russian-Georgian August 2008 war.
The parties reviewed the results of intensive cooperation, including current issues and future visions of the transformation process of the ongoing program to determine the fate of missing persons.
At the meeting, readiness to continue joint work for further improvement of the program's effectiveness was noted.