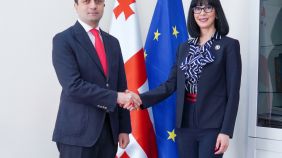 State Minister for Reconciliation and Civic Equality Tea Akhvlediani held an introductory meeting with the Public Defender of Georgia Levan Ioseliani.
The parties talked about the rights of ethnic minorities in the country and their integration. The Public Defender emphasized the issue of access to education in the occupied territories and the banning of education in the Georgian language in schools.
At the meeting, the priorities of the 10-year strategy of the state policy of civiс equality and integration and the goals and objectives set within the framework of the 2023-24 Action Plan were reviewed, as well as the mechanisms aimed at the full integration of ethnic minorities represented in our country and ensuring equal participation in various spheres of public life.
Tea Akhvlediani also drew attention to the humanitarian and human rights situation in the occupied regions of Georgia, highlighted the facts of access to quality education, the prohibition of education in the native language and gross violations of other fundamental rights.
The State Minister and the Public Defender emphasized the importance of active cooperation with the Office of the Public Defender and the National Council of Minorities and expressed readiness for further cooperation.