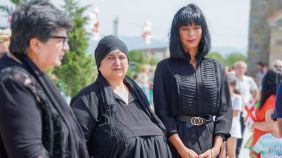 Tea Akhvlediani expressed her condolences and support to the family members of the fallen soldiers gathered at the memorial.
"I am sure that Georgia and its future generations will always remember the impressive heroism of 17 Georgian fighters in Shindisi, one of the most difficult and tragic, unfair and unequal battles of the 2008 Russian-Georgian war. The heroes of Shindisi gave up their lives, but they did not give up their homeland to the enemy, they defended its dignity, the unity of our country, for peace, precisely for peace! Protection and consolidation of peace in Georgia, peaceful reunification of our society divided by war, reconciliation is the primary goal of our policy, the achievement of which will be the best appreciation of the merits of our heroes. Today I pay my respects, I bow to their memory, I sympathize with their families, and at the same time I pay tribute to them for raising heroes inspired by the love of the motherland, such bravery, which is proud, but at the same time such a hardest fate.
Glory to our heroes", - said Tea Akhvlediani.
Along with State Minister, the Head of the temporary administration of the former South Ossetia Autonomous District, Tamaz Bestaev, the Governor of Shida Kartli, Mikheil Shakulashvili, the Mayor of Gori, Vladimir Khinchegashvili, and other representatives of the local government paid tribute to the memory of the heroes.