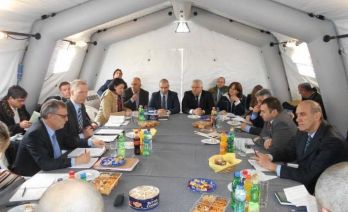 The next 59th meeting took place in village Ergneti in frames of the Incident Prevention and Reaction Mechanism. Participants discussed the incidents that occurred after 58th meeting and other issues that were tackled previously.
The agenda also included the medical expertise of the body of Akhalgori resident Davit Basharuli. The Georgian side raised doubts about the results of the expertise argumentatively.
The issues of missing persons and problems that emerged for the local population due to the installation of barbed wire fences and other artificial barriers were discussed as well.
The next 60th meeting is planned for 26 November in Ergneti.