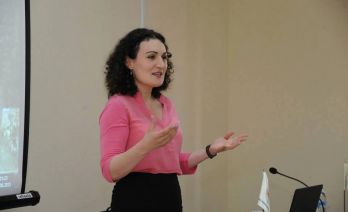 The First Deputy State Minister for Reconciliation and Civic Equality met with the participants of the National Defence Executive Course. The course took place under the arrangement of the Defence Ministry and NATO Professional Development Programme.
Mrs. Ketevan Tsikhelashvili provided information on occupied territories and dividing lines that are affected by the installation of barbed wire fences and other artificial barriers. Mrs. Tsikhelashvili also gave an overview of the policy of Georgian Government with regard to conflict settlement.
"Residents of occupied territories are entitled to all those benefits Georgia extends to its citizens. We want to create an alternative to these people. We see our united country within the common European space and European integration is one of the keys to conflict settlement," - Mrs. Ketevan Tsikhelashvili declared, also discussing the structure and development of Geneva International Discussions. Mrs. Tsikhelashvili responded to the questions of the attendees as well.