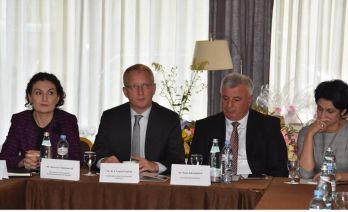 The State Minister of Georgia for Reconciliation and Civic Equality Mrs. Ketevan Tsikhelashvili took part into the award ceremony of International Exhibition of Lidice Children's Artworks. The ceremony took place under the arrangement of the Embassy of Czech Republic to Georgia.
3 participants from Georgia gained victory at the contest.
Mrs. Ketevan Tsikhelashvili congratulated the winners. "Congratulations on the victory, we are proud of you and wish you best of luck in future. It is quite symbolic, that one of the winners – Marta Tsulaia is an IDP from Abkhazia. Arts and love are path to peaceful future. Also, I would like to congratulate you on the Day of Abkhaz Language. This day and the value of Abkhaz language is important for each one of us," – Mrs. Ketevan Tsikhelashvili declared.
The Lidice Exhibition was founded in 1967 in Czech village Lidice, for the memory of Nazi-murdered children, and all war children. The festival is marked internationally since 1973, contributed by children and teachers from all over the world.