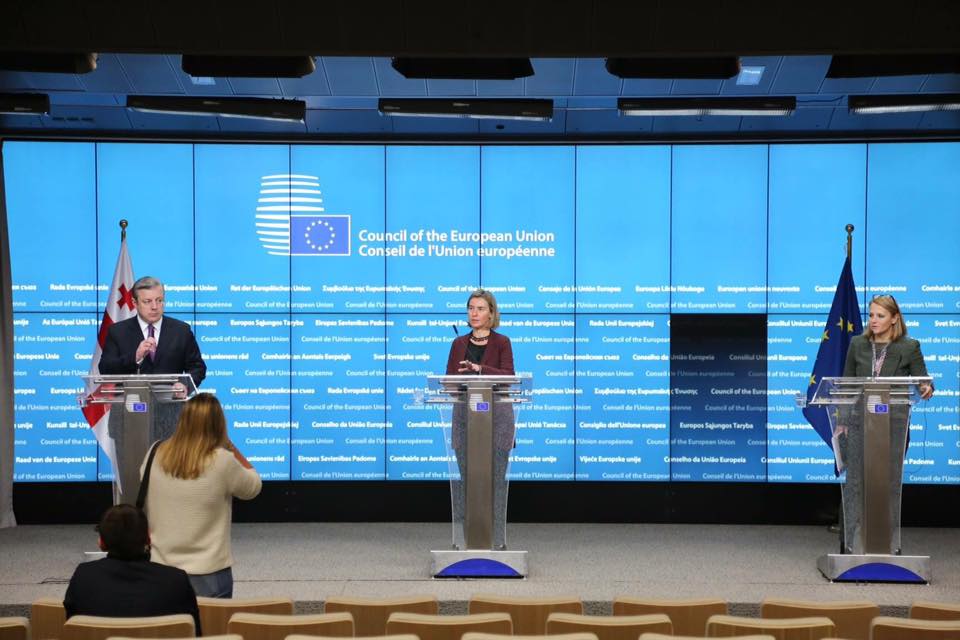 Settlement of the conflicts in Georgia and its territorial integrity were one of the main topics discussed at Georgia-EU Association Council Session in Brussels.
The Georgian Delegation was also represented by the State Minister of Georgia for Reconciliation and Civic Equality Mrs. Ketevan Tsikhelashvili.
The Prime Minister of Georgia Mr. Giorgi Kvirikashvili and European Union High Representative on Foreign and Security Policy Federica Mogherini discussed main topics at joint press-conference by the conclusion of the session.
Ms. Federica Mogherini once again reiterated her firm support for territorial integrity and peace, stability and conflict settlement goals of Georgia.
"We have invited Special Representative of the European Union, who works on these issues on a daily basis; the EU Monitoring Mission is also engaged," – Federica Mogherini declared.
The Prime Minister of Georgia declared at the press-conference that options for the best use of existed instruments on the conflict in Georgia were discussed at the meeting.
"We have communicated detrimental security and humanitarian situation of the expansionist policy of Russia to the participants of the meeting. Restriction on the right of the freedom of movement, abductions and illegal arrests on the occupation line are practiced on a regular basis. The process jeopardizes our efforts to reach out to the part of the population who have been directly affected by the conflict and still live beyond the occupation line. The European Union has a vital role in sustaining peace and stability in Georgia in frames of the EUMM (European Union Monitoring Mission to Georgia) and Geneva International Discussions through active mediation and non-recognition policy. We pay a great respect to the unwavering support of the European Union for territorial integrity of Georgia in its internationally recognized borders," – Mr. Giorgi Kvirkashvili declared, adding that Georgia is a reliable partner for the European Union on the issues of security.