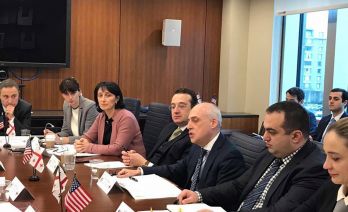 The First Deputy State Minister for Reconciliation and Civic Equality paid a working visit to the US and participated in the meeting of the U.S.
-
Georgia Strategic Partnership Commission Working Group on People-to-People and Cultural Exchanges.
The aim of the meeting was to deepen the cooperation in the areas of education, culture, healthcare, youth and sport, as well as strategic communications.
The United States reaffirmed its strong support for Georgia's sovereignty, independence and territorial integrity within internationally recognized borders. As well as the Geneva International Discussions as a means of achieving progress on security and humanitarian issues in the occupied territories.
The United States has also shown strong support for the efforts of the Government of Georgia, which tries to improve the involvement of the population of Abkhazia and Tskhinvali region and the ethnic minorities in social life.
Participants of the meeting emphasized the importance of continuation of contacts between people, namely the Peace Corps and other bilateral exchange programs. The sides agreed that such initiatives will be strengthened.
The working group was co-chaired by the First Deputy State Minister for Reconciliation and Civic Equality Mr. Lasha Darsalia, the First Deputy Foreign Minister DaviT Zalkaliani, the Deputy Assistant Secretary
Sharon Hudson-Dean and the acting deputy administrator of the USAID Margo Ellis.