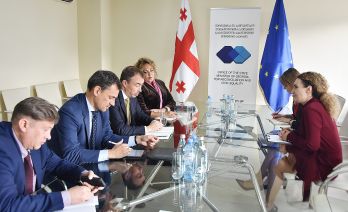 State Minister met with co-chair of the Geneva Discussions Toivo Klar.
Ketevan Tsikhelashvili, the EU Special Representative for South Caucasus and Georgia, has provided information on the serious humanitarian situation in the occupied regions, the gross violations of human rights, the discrimination and ethnic cleansing of ethnic minorities.
During the conversation with Toivo, the State Minister gave a great deal of time to violating the rights of preschool and school children in the occupied Akhalgori and Gali districts and restricting their access to native language. The co-chair of the Geneva Discussions expressed its readiness to support the Georgian government's peace initiative "Step for a Better Future" with joint efforts.