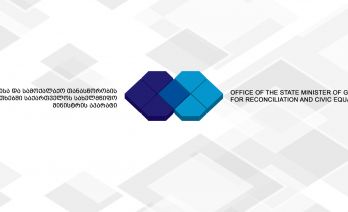 Ketevan Tsikhelashvili met with representatives of the Black Sea Regional Cooperation Initiative of the US Marshall German Foundation (GMF).
The aim of the visit was to get familiar with the current political, economic and social issues in Georgia, which will help increase awareness and awareness of Georgia in the US and European countries.
Ketevan Tsikhelashvili reviewed the situation in the occupied territories, restrictions imposed on people living there. Information about human rights violations.
They talked about the reconciliation and engagement state policy. During the meeting, the sides discussed the new peace initiative "Step for a Better Future" and all the benefits it provides for people living on the occupied territories. The State Minister also informed the guests about the ongoing and planned activities within the initiative. They talked about the ways and perspectives of implementing the peace plan.
The conversation also touched upon the need for dialogue and interaction between the population living on both sides of the dividing lines, the importance of the formation and development of different forms of communication. There was noted the role of Russia's destructive actions in the existence of conflict.