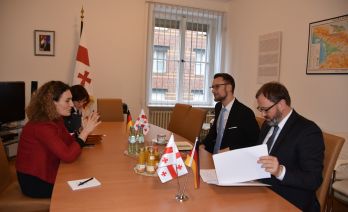 The State Minister of Georgia for Reconciliation and Civic Equality Ketevan Tsikhelashvili is on her working visit to Berlin where she meets with partners.
In the frames of the visit, the State Minister held meetings with various parties of the Bundestag, Federal Chancellor's Bureau and various funds. She thanked the partners for support, emphasized the importance of this support in the process of conflicts peaceful settlement.
Ketevan Tsikhelashvili said that the meetings were fruitful and added that the main topic of discussion on each of them was the situation in the occupied territories - security and humanitarian challenges that disturb the local population.
"We have also discussed the peace plans and initiatives of the Georgian Government. Including "A Step to a Better Future", which was adopted by the Parliament current year and its implementation is now very intense. The assistance of our partners, especially Germany, is very important for its implementation.
"Germany understands best of all what artificial barriers and separation of the population mean.
In the city where we are, a huge wall was built and what happened in this city will definitely happen in Georgia - such walls will fall apart. Until then, the result will be achieved, it is natural to help people who are suffering daily from the unhealthy conflicts. According to our partners, "A Step to a Better Future" is specific peace map and they are ready to participate in its implementation", - said Ketevan Tsikhelashvili.
State Minister's visit to the capital of Germany continues. Tomorrow Ketevan Tsikhelashvili will hold meetings in the German Foreign Ministry.