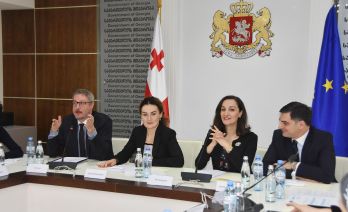 The seminar on European and Euro-Atlantic integration for the school principals and teachers of Pankisi Gorge schools started in Tbilisi. The two-day seminar is a joint project of the Office of the State Minister for Reconciliation and Civic Equality Issues and Information Center on NATO and the European Union. The event was opened by the State Minister Ketevan Tsikhelashvili and the Head of the Center Nino Bolkvadze.
The Deputy Minister of Foreign Affairs Vakhtang Makharoblishvili, EU Ambassador to Georgia Karl Hartsell and the Deputy Minister of Education, Science, Culture and Sport Irine Abuladze also welcomed the participants. 20 teachers from Pankisi during this two – day – long seminar will learn about the history of NATO and the European Union, the European and Euro-Atlantic integration process, the Association Agreement and the DCFTA issues.
This program was specially designed for Pankisi Gorge teachers in order to promote their awareness of European values and importance of European integration. At the second stage of the program, teachers will visit Brussels with a study trip.
According to Ketevan Tsikhelashvili, the State's priority is that the European and Euro-Atlantic course should be a conscious choice and the population will have maximum information on what this aspiration is and how it will be reflected on each of them.
"I would like to reiterate the respect for these people because our exemplary citizens are growing in the schools of Pankisi. Many students successfully continue their studies in higher education, they have a good job and teachers must have full information to answer all questions. Especially when a foreign propaganda is trying to create myths and stereotypes about Europe and European integration.
"That is why this project is such important and it is a part of the Pankisi development plan. We will continue to work more closely with teachers, pupils and population in general", - said Ketevan Tsikhelashvili.
Financially the project is supported by the EU Delegation to Georgia.