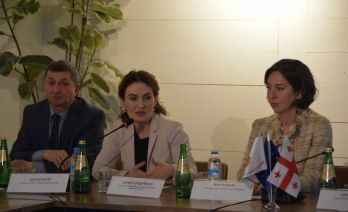 The State Minister of Georgia for Reconciliation and Civic Equality Ketevan Tsikhelashvili attended the presentation of the research conducted by the Chamber of Commerce and Industry of the Autonomous Republic of Abkhazia, which concerns the needs of small and medium business development in key settlements of IDPs in Georgia.
The research was prepared in conjunction with Munich and Upper Bavaria's Chamber of Commerce and Industry and includes experimental, qualitative and quantitative methods. It should be noted that he was focused on Samegrelo-Zemo Svaneti, Imereti, Kvemo Kartli and Adjara Autonomous Republic. The survey was conducted in 19 compact settlements of IDPs.
The State Minister addressed the audience with a welcoming speech. She thanked the organizers of the research and noted that it is extremely interesting, as it reflects the needs of IDPs and conflict affected people.
"It is especially important for me the part, which is about the new peace initiative "A Step to a Better Future". I think that by considering these results, there is a very real possibility that the initiative will be implemented. In turn this will improve the condition of the population, which they really need. Will create and activate contacts that are vital for the population living on the both sides of the dividing line and will lay the foundation for our reconciliation and confidence building process without which future and peace are unimaginable", - said Ketevan Tsikhelashvili.
After the presentation, the discussion was held where the State Minister answered the questions of the guests.
The event was attended by the President of Georgian Chamber of Commerce and Industry Nino Chikovani, the President of Chamber of Commerce and Industry of Autonomous Republic of Abkhazia Amiran Dolidze, the Acting Chairman of the Autonomous Republic of Abkhazia Vakhtang Kolbaia, etc.