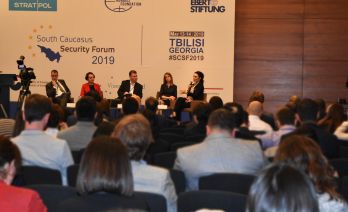 The State Minister for Reconciliation and Civic Equality attended the South Caucasus Security Forum.
Ketevan Tsikhelashvili made a report on the current situation in Georgia's occupied regions, humanitarian problems and the Government's peace initiative.
The State Minister draw a special attention to the peace program "A Step to a Better Future" and explained to the participants of the Security Forum what does it offer to people living in the occupied regions in order to overcome the difficulties caused by the Russian occupation.
After the end of the report, Ketevan Tsikhelashvili answered the questions of the forum participants.