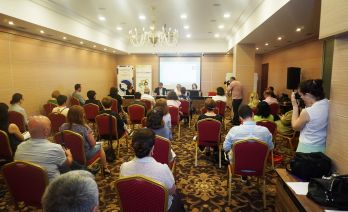 Acting State Minister for Reconciliation and Civic Equality Lia Gigauri attended the presentation of the research results of the Center for Civic Integration and Interethnic Relations (CCIIR). The Acting Minister addressed the participants and talked about the importance of higher education for ethnic minorities in the process of civic integration.
"In our multi-ethnic country, the state pursues a preferential policy to provide access to higher education for ethnic minorities. For 10 years, thousands of students have received higher education under this policy, they have learned the state language and at the same time acquired a profession. Many of them are already employed. Today's meeting was related to this topic. We evaluated 10 years of activity, project development dynamics, challenges and achievements.
We agreed that the project should be sustainable, to last a long time. Most importantly, taking into account the recommendations and findings that have emerged today, it is necessary to define different goals within the new policy. The goals that will be focused on the best results, to become more effective in the implementation process", - said Lia Gigauri.
The study was conducted within the framework of the Tolerance, Civic Awareness and Integration Support Program (PITA), funded by the United Nations Association of Georgia (UNAG) with the financial support of the United States Agency for International Development (USAID).