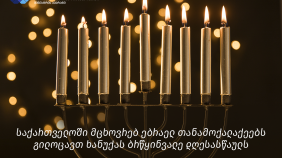 The State Minister for Reconciliation and Civic Equality Tea Akhvlediani congratulated the Jews living in Georgia on the Hanukkah holiday.
"I would like to congratulate every Jewish citizen and the Jewish people for Hanukkah holiday. This magnificent holiday is an important symbol of victory of justice over darkness, kindness over evil.
Georgians and Jews have totally unique friendship. This relationship, by nature, is indeed unique, exemplary and symbol of what our country represents - a multinational, multi-cultural, peaceful coexistence for each citizen. The Jews were always the most loyal citizens of our state", - said Tea Akhvlediani.
Hanukkah is a Jewish holiday commemorating the rededication of the Second Temple in Jerusalem at the time of the Maccabean Revolt against the Seleucid Empire. Hanukkah is observed for eight nights and days, starting on the 25th day of Kislev according to the Hebrew calendar, which may occur at any time from late November to late December in the Gregorian calendar. It is also known as the Festival of Lights.