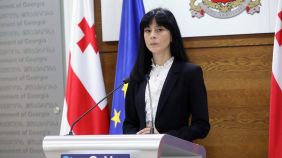 State Minister for Reconciliation and Civic Equality Tea Akhvlediani said that the Georgian government is ready to assist the people of the Abkhazia region in the fight against fire.
"First of all, on behalf of the government of Georgia, I would like to express my concern over the recent fires in the occupied Abkhazia region, which, according to our information, have caused serious damage to the local population and the environment.
As soon as the fires broke out in occupied Abkhazia, the Georgian central government immediately informed the de facto government of our full readiness to engage and assist in the fight against the fires.
Since the morning of January 5, we have launched a hotline several times to demonstrate our readiness to engage in firefighting operations in the occupied Gali district and various locations in the occupied Abkhazia, including in Gagra.
Similarly, we have repeatedly demonstrated our full readiness to assist in specific ways, including facilitating firefighting by helicopter when needed.
At this stage, we are in intensive and regular communication with the de facto government. As soon as we receive a concrete answer, we are ready to get involved in this process.
Unfortunately, the central government of Georgia does not have effective access to the occupied regions. We have continuous communication with the de facto authorities, although we can not make public the details of this dialogue", - said Tea Akhvlediani.