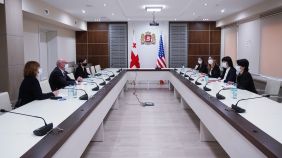 The State Minister of Georgia for Reconciliation and Civic Equality met with the Head of the United States Agency for International Development (USAID/Georgia) Peter Wiebler.
Tea Akhvlediani noted the importance of the USAID's support for conflict-affected populations and ethnic minorities, and expressed appreciation for the Agency's assistance to the population living in Abkhazia and Tskhinvali during the pandemic, as well as for ethnic minorities. At the same time, the State Minister stressed the important role of the organization in the process of peaceful settlement of the conflict and the confidence building, as well as in the fight against misinformation and propaganda.
During the meeting, the parties reviewed the current and planned projects of the USAID, including the priorities set out in the new strategy for development and cooperation. Talks focused on the prospects for further deepening of bilateral relations and plans for future cooperation in the process of implementation of the policy of reconciliation and inclusion, as well as civic equality and integration.
Tea Akhvlediani touched upon the results achieved in both directions and the existing challenges. Speaking about the difficult situation in the occupied regions of Georgia, the State Minister paid special attention to the facts of illegal detention of Georgian citizens and stressed the need for continued efforts by international partners to ensure the unconditional and immediate release of all illegally detained persons.