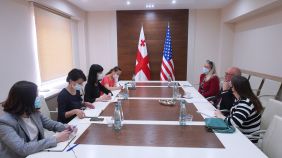 The State Minister for Reconciliation and Civic Equality met with USAID/Georgia Mission Director Peter Wiebler.
Tea Akhvlediani thanked the guest for his support in both areas of the Office's work – reconciliation and assistance in the process of implementing the civic equality and integration policy. The importance of the ongoing projects in Georgia, as well as the implementation of the 2020-2025 country development strategy was underlined.
The sides discussed the results achieved within the framework of Georgia's peace policy and future plans aimed at improving the socio-economic conditions of the population living in the occupied territories and deepening cooperation and confidence based on common interests between the artificially divided population.
Peter Wiebler welcomed the new initiatives developed by the Office in this regard and pledged full support to the State Minister in the process of peaceful settlement of the conflict.
At the meeting, the State Minister also spoke about civil equality and integration policy in 2021-2030. The parties agreed to continue further close cooperation.